Stuck at home? Call a Clown!
Like almost everyone else, our clowns are currently stuck at home avoiding a nasty little bug called the coronavirus.
We're spending our time playing games, making arts-and-crafts, practicing circus tricks, and occasionally making video calls to our friends.
If you're stuck at home and feeling isolated, we'd love to keep you company!
Contact us to arrange a free-of-charge video chat with one of our performers.
NOW
Like everyone, the rapidly evolving situation that is COVID-19 has radically altered our day-to-day lives. We're all trying to figure out what the "new normal" is going to look like on an almost daily basis, and we're doing the best we can to take care of ourselves and others during the crisis.
Here's what we are working on, and towards, right now:
We've created an "online clown symposium" to temporarily replace our workshops and classes. Our students are meeting online each week to discuss theory, ideas for new projects, and generally focusing on the brainy part of learning to be a proper idiot.

We've opened our living room to virtual visitors every Friday night for an online workout session.

Sculpting a collection of papier-mâché theater masks, so we can continue our exploration into the strange and magical world of mask theater. This means lots of arts and crafts for us, which helps pass the time in isolation.

Thanks to a bit of internet magic, our clowns were invited to be a part of a spring parade (off-site link) hosted by our friends at Wild Rumpus Circus:
The Plain Text Project published an interview (off-site link) with our boss clown about his exceptionally-nerdy technology habits.

James Palmarini from the EDTA published a new article (off-site link) checking in with theater artists during the pandemic. The post included some quotes from our boss clown.

Encouraging those who wish to support us to donate to charities instead. There are many people who need help more immediately, and we would be thrilled to know we inspired your generosity.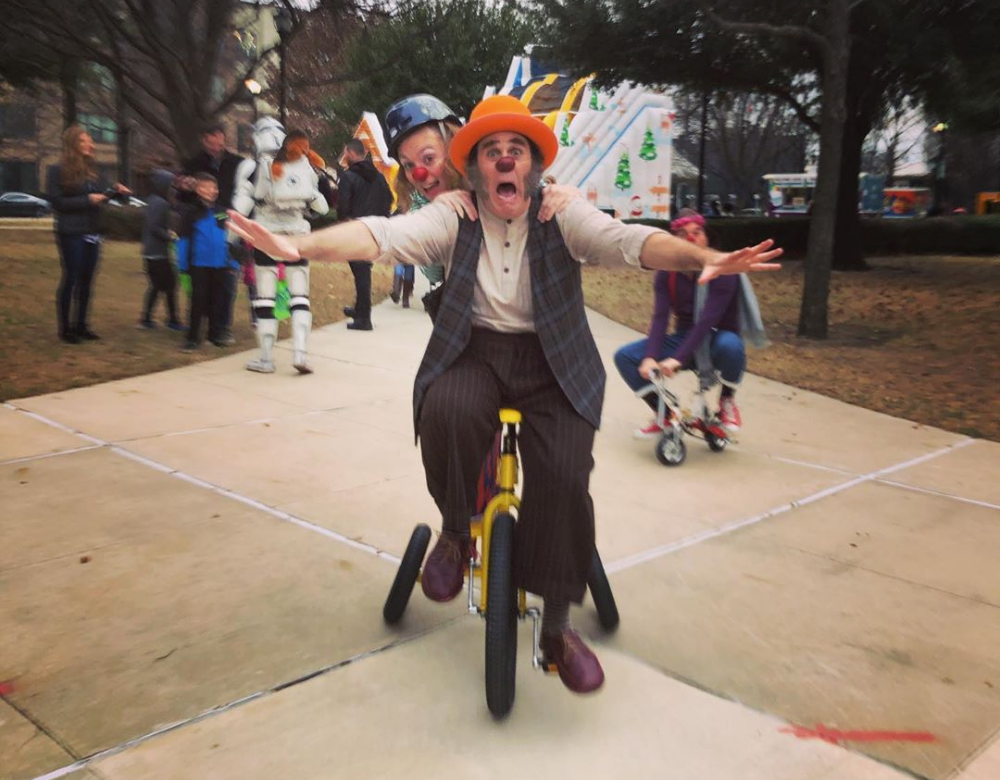 Want us at your event?
Contact us about bookings, special appearances, and clown invasions.