We love stickers!
There's a famous quote about creativity where it's best to steal something rather than copy it. The comment refers to the idea of making something your own, and it's a critical part of any imaginative process.
Practically speaking, this means seeking out ways to express yourself.
As silly as it might sound, we've found that covering your "boring" stuff with stickers is a terrific way to keep in practice. Suddenly your laptop lid is a personal billboard, and your water bottle is a portable statement station.
This discovery led us to collecting and trading stickers with anyone willing to put them in the mail. We've received little envelopes filled with weird bits of joy from all over the world, and it has made checking our mail is a real treat.
To help keep this going, we've printed some stickers of our own to share!
The first round of stickers
If you've found the secret page* on our website, you already know that the silly clown glyph at the bottom of this page is special to us. It's a sort of "magic" glyph which reminds us to be the wonderful kind of weird people we are.
*Okay, it's only a little secret. Try clicking on the weird little clown glyph at the bottom of this page for details.
It's a terrific idea to share, and it's the first one we've printed: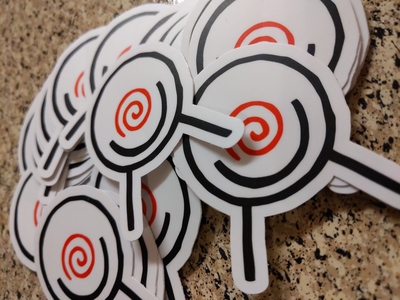 How to get some stickers
Send us an envelope full of stickers. We'll send you a bunch in return.

Mail your sticker trade to:

Circus Freaks
ATTN: Stickers!
2310 N. Henderson Avenue #639
Dallas, TX 75206

Ask us nicely, we'll send you a sticker.
Important Notes
If you put your stickers anywhere interesting, we'd love to see a photo!

Don't put our stickers anywhere that promotes hate, intolerance, or evil.

These are not "merch" and are not for sale. It is something nice to enjoy.